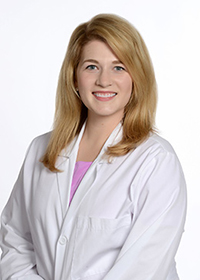 OPTOMETRIST SPECIALIZING IN CONTACT LENSES AND ROUTINE EYE CARE
Dr. Amanda Hake earned her Bachelor of Science degree in biology and Spanish from Creighton University in Omaha, NE where she graduated cum laude. She then earned her Doctor of Optometry from Illinois College of Optometry in Chicago, IL, and completed her Residency in Primary Care/Traumatic Brain Injury/Low Vision at Minneapolis VA Hospital in Minneapolis, MN.
Dr. Hake is a member of the American Optometric Association, Kansas Optometric Association and Missouri Optometric Association. She is medically licensed in both Kansas and Missouri.
Dr. Hake Practices at the Following Location: